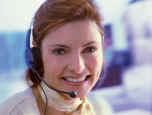 PC-Calling Success Depends on Consumer Apps
The number of people making PC-based phone calls using IP is expected to grow, but so much depends on economic conditions - and a killer app or two - that the future is still hazy.
by Keith Dawson
PC-based phone calling is gaining user acceptance much faster than most people expected, according to some fresh data from research group Ovum.
They're guessing that by January 2006, 166 million Internet users worldwide will be regular users of PC-to-phone IP telephony. This represents almost a quarter of Internet users, up from 5% today. Growth is being pushed along largely by quality improvements and ease of use, among other factors.
What's interesting about this projection is that it allows us to get past the technical matters of network design and transmission that might (or might not) hamper growth, and puts the focus squarely on the issue of consumer acceptance. If all else is equal, it seems to say, a significant portion of end users will choose to use the Internet to make calls for free (or nearly free).
Right now, PC-to-phone calling relies on a tenuous business model: calls are free because they're paid for by advertising that's splashed across the user's screen. Pulled along with that is a low-cost (but not free) model, which offers less advertising and better call quality.
The first case stands on shaky ground simply because it's affected by factors that have nothing to do with technology or quality: if the market for advertising dries up (as it has in the parallel free-ISP market and for web ads in general), then the companies that provide free calls have no revenue, and hence cannot provide the service; customers then become jaded and are forced to retreat to either the online pay-per-call providers, or back to the traditional telephone.
One can also make the argument that with "real" telephone network rates so low, the incentive isn't great to go to even a high-quality IP-based service.
Unless, of course, there are compelling value-adds thrown into the mix. And for that, we're still waiting for a killer app that's going to leverage the power of the PC to manipulate data (address books, calendars, shopping preferences, etc.) and apply that intelligence to the calling process. The killer app could be something as simple as online-phone-based couponing: the customer could derive some kind of benefit from a retailer in return for using a PC to make a call, and sharing some information automatically, or viewing a special web page -- the possibilities are endless.
Even so, 2006 is not exactly right around the corner, and even then, a quarter of Internet users making calls is not nearly a quarter of all people making calls. We're still at the very beginning of the long road.
According to the Ovum report, free PC-to-phone calling is now available to around 30 countries worldwide and very low price calling to many more. What they describe as (e-calling¦ eliminates geographic boundaries and bypasses any local regulation of telephony. Even those countries that have not yet introduced competition in voice telephony will not be able to stop people using their PCs to makeinternational calls. As a result, e-calling's growth is happening as much in the developing world as the developed.As for the economic downturn that threatens to put the breaks on any number of interesting but unproven technologies, Ovum consultant Peter Hall notes that "portals including Yahoo! and MSN entered the market in 2000 and many more will follow. Many portals will expand their offering beyond PC-to-phone and PC-to-PC calling to provide a full range of consumer telephony services, which will pave the way to some becoming the future global consumer telcos."
Ovum predicts that world revenues for PC-to-phone services will reach $6.2 billion in 2005 and a third of this will be generated in advertising. PC to phone calling will become popular not just because its cheap, or even free, but because other services like voicemail and unified messaging will be part of every service offering.
The report, entitled IP Telephony: Exploiting Market Opportunities examines the market development for IP telephony and is aimed at telcos, ITSPs, ISPs, portals and other service providers who wish to enter or expand their activities in the IP telephony market. Makes for an interesting speculative roadmap on the consumer side.
---
---
International Calling Card and Callback Services for Cheap Phone Calls -
Callback and Calling Card for cheap international calls - international phone service for cheap calls from all countries on earth.

---
Recommended!!!
PC to Phone Service: use a PC to call any telephone in the world! Rates start as low as 3.9 cents/min to the US & UK. Great for travelers with a notebook, international customers, ethnic groups, and anyone looking to save on long distance!
Click here for more information!
| | |
| --- | --- |
| US | $0.039 |
| Puerto Rico | $0.069 |
| Israel | $0.129 |
| France | $0.059 |
| | |
| --- | --- |
| Sao Paulo | $0.089 |
| Canada | $0.059 |
| UK | $0.039 |
| Hong Kong | $0.049 |
| | |
| --- | --- |
| Shanghai | $0.12 |
| Moscow | $0.15 |
| Germany | $0.059 |
| Buenos Aires | $0.15 |
| | |
| --- | --- |
| Rio | $0.129 |
| Spain | $0.119 |
| Tokyo | $0.079 |
| Sweden | $0.05 |
---
The Best Online Global Calling Card: Toll-Free / No-Fee!! Rates start as low as 6.5 cents/min to the US. IsCard features toll free access from over 50 countries, online account management, PIN-FREE dialing, speed dialing, and much more! Great for travelers, college students, sales personnel and more!
Click here for more info!
---
Top Selling Phone Cards!
---

USA Unlimited Calling!
$69.99 flat per Month



India 28 minutes!
$10.00!



USA 6.5 cents!
No fees!



China 200 minutes!
USA 6.5 cents!
No fees!

---
All major brand Phonecards are at PhoneShark.com
---
---
Great low cost calling with Net2Phone!
FREE CALLS Click Here!!
Low cost calls anywhere in the world!
Make FREE calls from your computer!